Lentils and Couscous with Zucchini and Carrots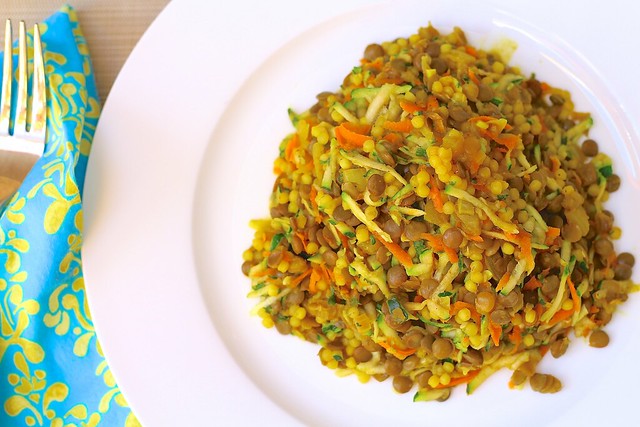 This recipe is something I saw and couldn't wait for the chance to make it. I'm always on the lookout for healthy, filling recipes. It's a kind of killing-two-birds-with-one stone type of deal. I made it for myself for lunch because everyone has been on a sort of grumpy dinner track lately. My son doesn't want to touch dinner at all lately, even if he really likes the dish. The days are cold, long, dark and tiring. In other words, everyone is getting tired of winter. Even my daughter is talking about summer all the time and wishing it was warm. On the upside of the never ending winter, there is more sunlight! Waking up at 6 am to get everything ready in time for the bust at 7:05, I am actually waking up to sunlight! Not pitch black anymore. That always makes waking up much easier. And, it's still light out at 4:30! Woot woot! Perhaps there is an end in sight? (Actually, I kind of like the snow. But not the cold.)
Back to this dish. It is full of great flavor. And I finally found a use for the pearled couscous I have had stashed away in the pantry for longer than I'd like to think. The lentils are a great filler. And the addition of my all-time favorite spice; ground cumin, makes it all that much better. Yeah, I am kind of obsessed with it. This dish makes a great lunch or dinner!
Lentils and Couscous with Zucchini and Carrots
Yield: 4-6 servings
1-2 cups dried lentils (If you like a lot of lentils, use 2 cups)

2 Tablespoons grapeseed or vegetable oil

1 medium onion, chopped

3 cloves garlic, minced

2 large carrots, peeled and shredded

2 zucchini, shredded

1 cup pearl (Israeli) couscous

2 cups chicken or vegetable stock

2 teaspoons ground cumin

1/2 teaspoon turmeric

dash of garlic powder

salt and pepper

2-3 Tablespoons fresh chopped parsley or cilantro
Directions
In a small saucepan, cover the lentils with 2 inches of water. Bring to boil over high heat. Partially cover, and lower the heat to a simmer. Simmer until the lentils are cooked through and tender, 15-20 minutes. Drain and set aside.
Meanwhile, prepare the rest of the ingredients. Place the oil in a large skillet over medium-high heat. Once shimmering, stir in the onion. Cook the onion until softened, about 5 minutes. Stir in the minced garlic, cumin, turmeric and garlic powder just until fragrant, about 30 seconds. Stir in the broth and couscous. Bring to a boil, lower the heat and partially cover. Gently simmer until the wanter is mostly absorbed, about 8-10 minutes. Just before all the water is absorbed, add the shredded carrots, zucchini, cooked lentils and parsley. Stir until completely combined. Let cook for a few more minutes until everything is heated through. Season generously with salt and pepper and serve.
Source: Adapted from Three Many Cooks