Cranberry Pineapple Punch
Since it's holiday season, I know a lot of people are hosting or going to parties. It's always helpful to have ideas and delicious treats to bring along. This cocktail (or mocktail) is a great drink you can make to contribute, whether it's your own party or you are the guest. The amounts are easily adjusted to feed a crowd, or just a few people (or just yourself!). Just a few simple ingredients are thrown together to make a delicious drink. I made a non-alcoholic pitcher for my husband (he's not a drinker) and I, so I just added alcohol to my own drink. I found it slightly addicting. I don't like soda very much, but I found the fizziness from the ginger ale was just right. Even though this is the perfect drink for the holiday season, I found myself dreaming of a warm beach. Make this today!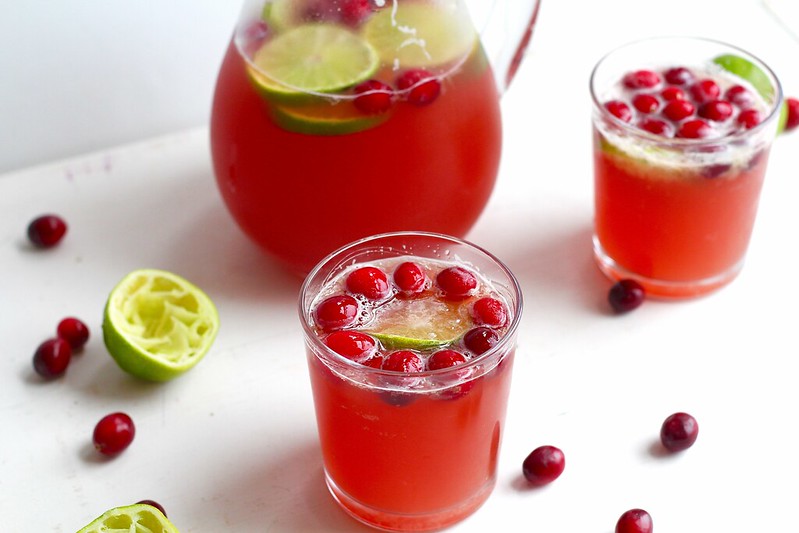 Cranberry Pineapple Punch
Yield: 8-10 servings
4 cups cranberry juice

4 cups pineapple juice

1 cup silver rum

1 cup coconut rum

2 liter ginger ale

juice of 2 limes
For garnish
2 limes, sliced (plus more for glasses)

1 cup fresh cranberries, frozen
Combine cranberry juice, pineapple juice, silver and coconut rum*, ginger ale and lime juice in a pitcher. Add lime slices and fresh cranberries to the pitcher. Serve immediately with fresh lemon slices and cranberries or refrigerate.
*If you want to make this non-alcoholic just omit the alcohol and proceed as directed.
Source: Real Housemoms